How is your air conditioning performance of late? Have you been feeling comfortable when you switch it on, or frustrated? If you find yourself wishing for better air conditioning then it could certainly be time to replace it.
Heating and cooling systems only last for so long. And they are undeniably a costlier item to replace, therefore, we often put off repairs to save money. But with home comfort at the forefront of our expectations it really is time to change it.
We have identified nine signs that it's time to replace your air conditioning system.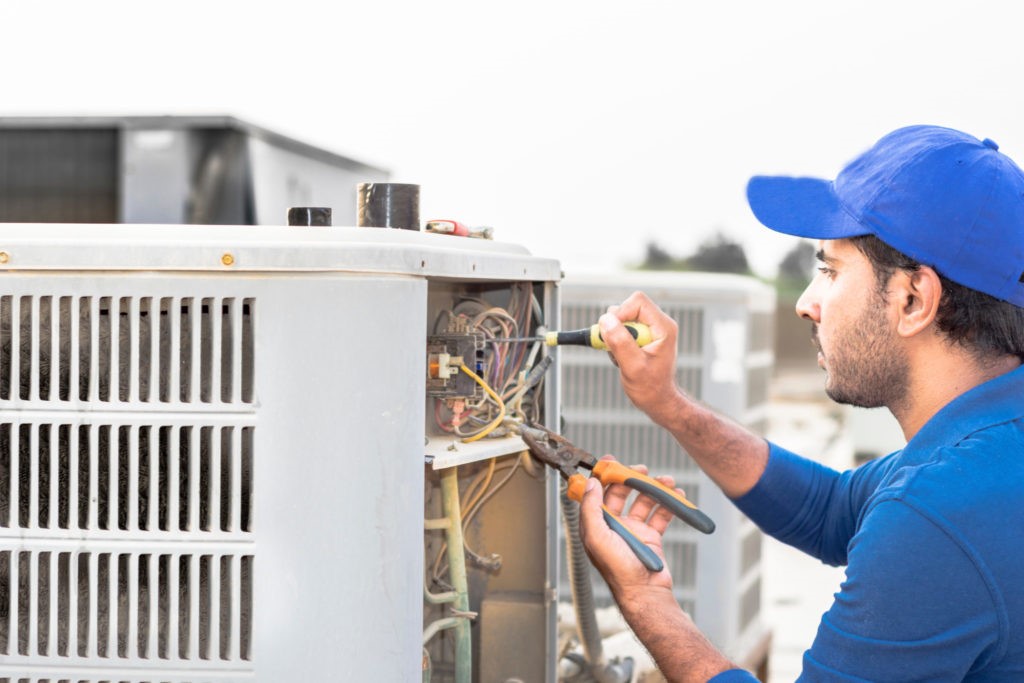 1. Frequent Repairs
Have you lost track of all the times your air conditioner has been repaired? If your local technician is on speed dial then it's truly the right time to replace the system.
Frequent air con repairs are a sign that internal parts are constantly breaking down. And although that is normal, frequent repairs are not. Your system is likely on a downhill trend.
Recurring expenses also add up. So even though a low-cost repair here and there seems better than a large purchase, the combination of all the repairs will look far more startling.
When it comes to repairs, if your system is more than 10 years old, you are better off upgrading to a more efficient system. Not only will you save on repeat repair costs, but you will also enjoy reduced power bills.
2. Increased Energy Bills
Rising energy costs are nothing new. Utility bills have been increasing for years now. However, if there has been a sudden and drastic change, your central cooling could be at fault.
Keep track of your summer expenses if you can. That will help you see ongoing trends, helping you manage bill expectations. Then, if there are any wild changes, you can hopefully trace the issue back to the heating and cooling.
When a system has clogged filters or faulty parts it sucks up more energy just to work as you expect it. So you could be paying more for the same – or even less – climate control. But if you were to replace an old air conditioning system, you could potentially save 40% on cooling costs.
3. Strange Sounds
Depending on the type of air con system you have, there could be an array of sounds every time you use it. From whirring or humming to a slight clunk on start-up. You will be incredibly familiar with some of these normal sounds.
Concerns should be raised when new, irregular sounds appear. From banging in the air ducts to ticking, clicking, popping, etc, there are plenty of sounds that could appear.
Each one is a clear indication that something is wrong, and that may equal straightforward repairs or a complete replacement.
4. Disappointing Air Flow
When you get home at the end of a boiling hot day you want one thing: freshly chilled air blasting into your face. So, when you end up with a pitiful puff of lukewarm air, that's a massive disappointment.
Poor air flow is a sign of compressor or fan issues, while there could be a blockage in the ductwork. Damaged or leaking ductwork in a central cooling system is also possible. Issues with air flow are a leading reason to call an expert for a detailed inspection.
5. Unreliable Performance
Stop-start performance is the last thing you want from an air conditioner. It's both costly and frustrating.
A system that constantly turns on and off is a sign of hidden faults. It might be something as simple as a faulty thermostat struggling to regulate performance, or it could be the motor malfunctioning.
This is the kind of performance that proves costly. Additional energy is required every time the unit switches itself on, leading to increased utility costs. Those expenses are better saved for a beneficial upgrade that will give you years of high quality heating and cooling.
6. Fluctuating Temperature Control
An air conditioning system that struggles to regulate temperature is a bad one. It's not the kind of thing you should put up with.
Many of us will book in a HVAC specialist for repairs once we realise there's an issue with temperature control. However, it's also easy to fall into the habit of putting off repairs. Instead, you sit back and put up with fluctuating temperature control.
Thermostat faults need to be dealt with promptly. And if temperature control can't be fixed, it's time to cut your losses and move to a better system.
7. Water Leaks
Small amounts of condensation are normal and you can expect to see some moisture when an air conditioner is in use. However, frequent water leaks pose a real threat to your safety and an air conditioner's performance.
It's also a major concern if the unit itself is leaking. This could indicate internal water damage, or a nasty refrigerant or coolant leak.
Some units, like window/wall box air conditioners, are notable for leaking. Condensation builds up and is released via a small hole in the back of the unit. But if you see leaking in the home, your air conditioner is no longer safe for use.
Repairs or replacement is a must when you're dealing with a leaking air conditioning system.
8. Heightened Allergies
Air conditioners have a direct connection to indoor air quality. Poorly maintained filters lead to increased levels of bacteria, dust and other allergens being transported throughout the air con system.
Without clean filters, those contaminants are not being filtered out of the air you breathe. Therefore, you're inhaling harmful allergens that could trigger asthma attacks in some people. Prolonged exposure to bacteria and mould in the air can also lead to serious illness.
If your air conditioning system seems to trigger allergies or reactions every time it's turned on, the least you can do is book in a cleaning service for it.
9. Bad Smells
Air conditioners aren't meant to smell like a pine tree, but they certainly should not smell like a skunk. If your system has a noxious odor wafting out, it might be too late to save it.
Common odors to be wary of include burning and mustiness. A burning scent is a clear sign that internal wires have burnt out, or another piece of equipment has overheated. Using your system after that is a serious safety risk.
Meanwhile, any mustiness is a sign of internal mould or moisture build up. This is more of a health risk as you don't want to spread bacteria and mould around the home.
No matter the smell, if it's making your nose crinkle, pick up the phone and call a technician.